Best Meteor Photo Competition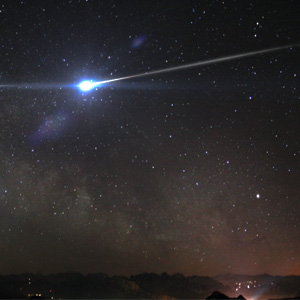 Observations of meteors can often become a crossover between science and art, involving inspirations landscapes or innovative means of data visualisation. This is why we decided to continue the photo competition intiated during the IMC2016 in Egmond, the Netherlands. The competition is open to all participants of the IMC2018. The theme for this year's competition is 'Meteors in our lifetime'. We are targeting the full breath of meteoritics to make it possible for all participants to enter images related, but certainly not limited, to:
Optical observations using all-sky cameras or DSLR photography
Data visualisation based on optical, spectral or radio observations
Images made of meteorites, or the recovery of meteorites
Observers in the act of observing meteors, in other words the 'human interest' side
Based on the submitted images a shortlist will be selected by a jury which are considered to best capture the theme of this year's competition and displaying a certain uniqueness in their artistic level and image composition. These images will be displayed at the conference venue where you as participant will have the final word. Enter your voting ballot and the photo with the largest number of votes will win.
Each IMC participant is eligible to submitting one (1) photo. It needs to be your own work and by submitting your photo to the competition you are declaring to be the copyright holder of the image, and agree to the image being used in future IMC activities (e.g. website and or printed materials with proper reference to you).
Details for submitting your photo
A title and a short description (max. 100 words) of your photo that explains how it relates to the theme of the competition.
JPEG-format, other formats will not be accepted
10 Mb file size or less. Please provide an image of adequate resolution such that it can be enlarged and printed.
Submit your photos to this email address: imc2018@imo.net
Submission deadline: Monday, August 20th 2018